"It looked like this animal, a fire beast, just arms of fire going forward."
testimony
Edited by Sean Holman
When Micha was 3, her family bought a 100 acres of land in Nlaka'pamux territory and built their home a fifteen-minute drive outside of Lytton. "It was no electricity, no road, no water system, no phones," says Micha. It was nothing but the valley where she'd run around naked and play in the dirt with her three siblings.
After graduation, Micha moved to the coast where she studied music and worked as a tree planter. But it wasn't long before she missed the mountains and the people. "I don't think there's many places in Canada where you'll find a community that's so supportive and blended, despite the historical and cultural differences of all the residents," says Micha. "I always knew I was going back to Lytton, but it took me a while to make my way back." She studied nursing, a job in high demand in small towns and, in 2019, Micha returned home to the land she grew up on.
A nurse for the Lytton First Nation, Micha's spare time is filled by her "fiery" 6-year-old daughter Mimi and nurse practitioner graduate studies. Her parents, now split, amicably share the acreage. Her mother lived there for years before moving to Lillooet. Her father later built a new house on the land, and Micha and her brother each have a small cabin of their own. Micha split her time between her cabin and an apartment she rented in town to provide Mimi with heat and a shower in the winter.
In June 2021, the two were about to move back to the cabin for summer when Lytton broke Canada's heat record three days in a row and the Lytton Creek Fire tore through the town.
Every summer in Lytton, there's a forest fire somewhere. Summer isn't summer without orange sky and the smell of smoke. Growing up in this place, I have that visceral reaction to fire that you would to something taboo. Every culture has its taboos. For people in Lytton, you do not play with fire. You see the power of it, you see the potential there of what could happen.
On the day of the fire, I went to pick up my daughter from daycare. We went to get ice cream cones and to the park to eat them. As we were sitting there, my nose started noticing the smell of smoke. I could tell somehow that it was close and that it was fresh. I went in the direction the smoke was coming from. There was all these people walking down the street confused, dazed looking. Like a hoard of zombies. We get to the end of town and I could see smoke billowing up from the hill below. I looked up the side street and that's when I saw fire. Flames up on the hillside.
In all my years seeing forest fires, I've never seen a fire move like that. Everything was so tinder dry because of the heat dome. Anything a flame touched ignited instantly. There'd be a gust of wind and it would shoot out an arm of fire. And then there'd be another gust. It looked like this animal, a fire beast, just arms of fire going forward as me and my daughter were running up the street. The fire kept pace with us. We were in flip-flops. They kept trying to fly off as we're running. My daughter was in a complete panic. I've never seen her like this. She was clinging to my hands with this super tight grip and would not let me go.
We ran back to the apartment and packed. Then we load the car. There's ashes raining down from the sky. There was no one in town and the smoke was so thick I couldn't even see a block down. When we got to the gas station, we looked back. The fire had already come around underneath the bridge. Two big arms of fire went all the way on both sides of town and met on the other end. It was encircled with fire when we left.
As I was leaving town, I called my dad to warn him. Growing up around fire, we've talked as a family about what we would do. We were really poor growing up so if our house burnt, we'd be homeless, living out of cars. The plan was always that my mom would leave with the kids and he would stay and try and save the structures. He has that mentality like he's a captain going to go down with his ship.
I was expecting that would be his response. I was thinking this might be the last conversation. I don't want it to be an argument. "Can you at least just go tell Raf, my brother, and Sandra, his girlfriend, that there's a fire?" Hoping they would talk reason into him. We hung up and he was going to go tell them.
I went to my mom's house. My mom is up in Lillooet. It's about an hour from Lytton to Lillooet. By the time I got to Lillooet, my boss was texting me saying, "Town is gone. It's gone."
Everyone got found within the first day except my dad or brother. Nobody heard from them. We didn't know right away that the cell towers burnt up. I phone RCMP departments and try and get someone to let me in or to go check. They didn't and they wouldn't. That's the most horrible. Not knowing, and feeling so disempowered. If you can't go and check it yourself then let me. I am brave enough. I will go in there. The fire's long gone. Meanwhile my whole family is losing our shit thinking they burnt to death. I remember having these images in my mind of my dad and brother's charred face.
My dad managed to contact us. Someone had told him about a temporary cell tower up in Lytton for all the emergency workers but that didn't reach out to their place. He snuck back into town with his phone. He had to go there when it was getting dark and sneak around as if he's a criminal. It was almost two days. I've never had relief like that in my life.
By some miracle, his house didn't burn. My cabin burnt, that childhood home burnt, my brother's cabin burnt, my dad's shop burnt. His house and the chicken coop were the only structures that didn't burn. Which is annoying because my cabin is pretty close to where the chicken coop was. I mean, come on. The apartment was gone. We were in both places, and they both burned.
It was really hard being out in the world with everyone else living life as usual. I wanted to be with the people who are living the same thing that I am. I ended up staying in a tent back down in Lytton at a neighbour's place that didn't burn.. We were in the tent but we spent a lot of time in my neighbour's home. He's a very lovely guy. He let us use his kitchen as much as we want or the bathroom.
I think he was happy to have us around. My daughter is this super cute, engaging, little bright point of light in the universe. His kids had all grown up, so he was stoked to have a little person to play dinosaurs with. It's strange when you don't have the commons. You don't have the post office or the grocery store where you normally run into people. Even though he didn't lose his home, that's such a huge thing to lose the space where you hang out with your community.
I thought we could be fixing it last summer. I didn't want to be sitting around feeling like I was in shock and traumatized. I wanted to be doing something. Well, they've locked us out. They've put up fences. It just seems like a really unnatural reaction to a horrible situation. If you imagine back in human history, if a village was burned, the community would pull together. You'd all work together to fix the problem, and in so doing, you would heal together and become a stronger community. All I wanted to do all summer was get in there and get my hands dirty and clean it up. At the bare minimum, we should have been there in ceremony. I want to go and drum and sing and smudge and all the ceremonies that I've grown up with.
You don't have a frame of reference for that level of destruction as a modern human in the First World. It just doesn't happen. It's not that I didn't believe in climate change before but I thought that it was a ten or twenty year away problem. I never expected to be someone that was impacted by climate change to this degree. I had all these assumptions that now, well, that was a crock of shit.
This is a hard time to be a parent. The future is so uncertain. Should I enrol my kid in coding classes? Or should I be teaching her how to light a fire with sticks? How do I prepare her for the world?
We're having a big garden this year. That's all we can do. Control the factors you are able to in your own life and try not to think too much about the government because they're not doing a very good job. I'm going to survive the apocalypse with my garden and I'm going to learn how to light fires with sticks and that's my approach to climate change. Everyone else should be doing the same.
I think if we can manage to not make ourselves go extinct, then there's going to be an amazing society birthed from what we're all going through now. Even though I wish the fire didn't happen, I would not want to go back to who I was pre-fire. I have grown so much in this last year. I'm stronger actually and a better person. It's starting to take its place in the tapestry of my life.
We're living with my sister now. I'm waiting until they have a town. Initially it felt like this is just temporary but it looks like the same heap of garbage now for a year. That is starting to replace my memories of what it used to be and my hopes of what I want it to be. I don't mind being on the periphery of a burnt up heap of rubble but it's not good for my daughter's psychology. I want her to have parks and playgrounds and a library. Once it's built, I'm going to be so happy to go home.
The first time I went back, me and my friend snuck in under the cover of darkness. There were cops patrolling the streets. What was once a town where normally you could be hiding behind buildings, or cars, or trees, was like a field. You're walking by these husks of buildings. That's the grocery store, that's so and so's house. You can feel where you are and it's familiar but it also looks like the footage you see of a bombed-out town.
I'm really thankful that we did that because it felt so liberating to physically be in that place. I just wanted so bad to come home. Even if it's a pile of shit. If your loved one died, you want to see them. Even though it's not going to bring them back to life. It was like asserting my right to be there. And what right do I have as a settler? I don't know. But it feels like I do have some right to my hometown, and the place I was living, and the place I want to live.
Every place has some kind of energetic fingerprint that is not just the human structures that are there. In a place like Lytton, where there's those two rivers that have been flowing for thousands of years, energy moves in a certain way through those valleys. Even though it looked like a war zone, I knew I was home. Home didn't disappear. It's still here.
2021 Lytton Creek Fire
Maggie Lord, Lytton, Canada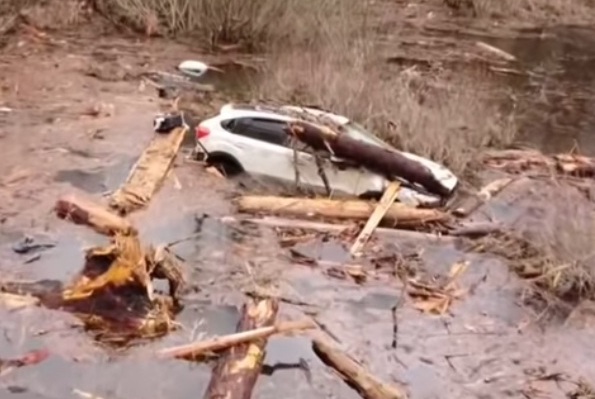 2021 Southern British Columbia Floods
Wanda Turner, Chilliwack, Canada
Loss of Homes